VFX, 3D Artist & Web Designer with a passion for designing clean and
functional interfaces.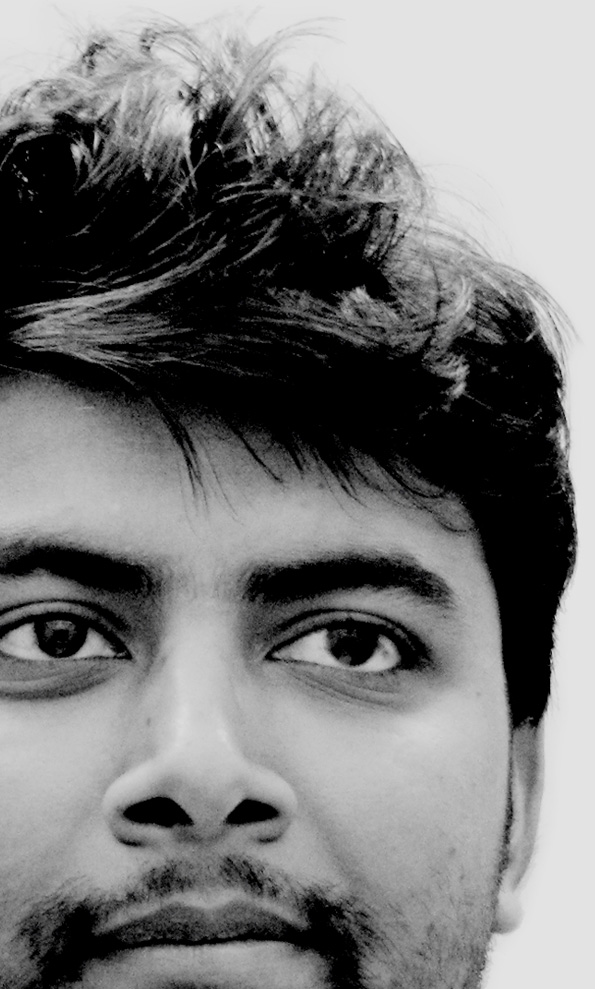 I was born in the spring season of April, when the sun was warm but the wind was chill. You know how it is with an April day, a cloud comes over the sunlit arch, and a wind comes off a frozen peak, flowers blossoms, spreading their colors & fragrance all over the nature's cosmic fields. Ignite heart to do something new & exciting in life.
It was 1984, 27th april, Friday evening, the sky is crimson red in western sky and yellow shine of evening sun, the bugs will fly, the birds chirping in the air, the grass is low, the windy weather making the scene and I am in between. Everyone was waiting for the big moment. The celebration starts at 4:02 pm at Naihati in the district of North 24 Parganas, West Bengal, India.
When I was young, I was fascinated by TV Advertisements, I always thought how they are made? What effects & methods applied behind it? I always wanted to know behind the scenes. Today also I had a quest of knowing behind the scenes of every present Ads & Movies. So, to fulfill this quest of knowing behind the scenes, after finishing my Graduation in B.Sc., I made my mind to go in 3d Animation, but my father was not sure about this new field and was not agreed to opt me for this Animation career, but my mother supported me a lot and with the support of her, in 2005, I joined MAAC and enrolled in Diploma in Animation Program. As the course goes on, I found interest in BG (Set & Prop) Modeling, BG texturing & lighting, Character (Modeling & texturing). I love to do Set & Prop Modeling & their Texturing. I want to increase my creative field so I also do 2D Graphics, Website Design, Vfx, Photography, etc.
My attitude about the work, do it with a twist & passion & do it until it reaches to perfection. So, today, wherever I work or my work I never compromise with the Quality & output of the product, else I or my team has to work again n again to make it perfect. I do one project at a time, I never involve different projects simultaneously, may this affect the quality & output of the project.
Me = very emotional, helping everyone, blood & eye Donor, Sincere, Hard working. I love food, and there was always a Street Food vs Mother Food taste test, but both the food types have their own taste on my taste Buds. I love Golguppa & Aloo Tikki with Tamarind Chutni.
I am always ready to travel new places, mostly with my friend Ravi.
I love to solve computer problems at my end which helps me & sometimes make me hero in front of someone… arrey wah ! Tu to Genuis hai. I have over 900 CD's & DVD's mostly DVD, loaded with my data, tutorials, movies, Songs, Documentaries, etc. You can always find a vast collection of Documentaries with me, I love them so much. Instrumental & romantic songs blooms me.
I am waiting for the world record certificate for the longest Greeting Card 155 ft made by me for my teachers on the occasion of teacher's day & also a 7 ft B'day greeting card for my friend.
Till now, I have worked with 3 companies,first was, "Samadhan Systems", Delhi – deals in Mobile Content, creating 3D animated video greetings & advertisements for mobile platform, I joined as a BG modeler & texturing artist, after 6 months I got promoted to team lead, playing a key role in BG modeling & texturing, setting up the production pipeline & pivotal role in final QA and archiving of every deliverable. After that I worked for "firstbase", New Delhi, as a 3d Modeler & Texturing artist. Here I worked on a game called SCAPS Agent. Third one is "Reliance Animation", Pune, here I worked as a 3d Asset & BG Development artist on a 2D HD Flash Animation Series, "Shaktimaan" involving the quality checking of the 3d assets modeled by the team.
As I also have interest in Graphics, so i learned and start making websites, Logos, etc.
I also do freelance work including 3d Animation & Design work which includes website, logo, corporate identity, etc.

| Max | Maya | Zbrush | BodyPaint3D | Adobe After Effects | Adobe Premiere | Fusion | Photoshop | Illustrator |
| --- | --- | --- | --- | --- | --- | --- | --- | --- |
| 7400 | 7200 | 5000 | 2500 | 7500 | 7600 | 2500 | 7600 | 2500 |

3dsMax

Maya

Zbrush

BodyPaint3D

Adobe
After Effects

Adobe
Premiere

Fusion

Photoshop

Illustrator